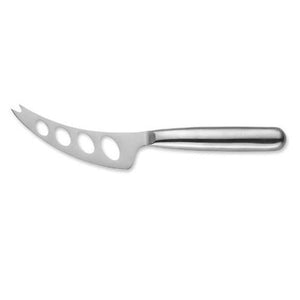 Excellent for cutting any cheese into nice thin slices, makes serving cheese easier than ever. Forged from high quality stainless steel, it has a sharp blade and a hollow handle. It will be a must-have for cheese lovers.
Size: 4 3/4" L
Material: Stainless Steel, Hollow Handle
Care & Clean: Hand wash is recommended to keep original finished. Due to the serrated edge, use caution when using or cleaning this knife.
Includes: 1-PC
Features a forked tip and holes in the blade to prevent cheese from sticking.