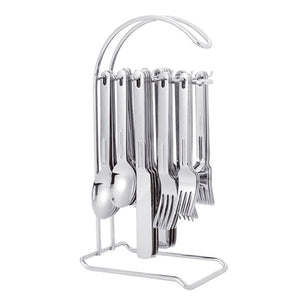 Impress your guests with this lovely flatware set. Service for four, this set is made from stainless steel and designed to match any table setting. This set includes all of the essential flatware for fine dining or everyday use-four dinner spoons, four dinner forks, four dinner knives, four salad forks, and four teaspoons. Also included is a 12 inch tall stainless steel stand to store all of your flatware. The stand holds the utensils with a hanging hook, making it easy for them to air dry.
Size: DS-7 1/4" L, DF-7 1/4" L, DK-8" L, TS-6 3/4" L and SF-6 3/4" L
Material: Stainless Steel
Care & Clean: Dishwasher Safe
Includes: 4-PC Dinner Spoon, 4-PC Dinner Fork, 4-PC Dinner Knife, 4-PC Tea Spoon, 4-PC Salad Fork & 1-PC 12" Hanging Stand
This set of flatware comes with a stand for holding each piece. It is very practical and will modernize your kitchen.