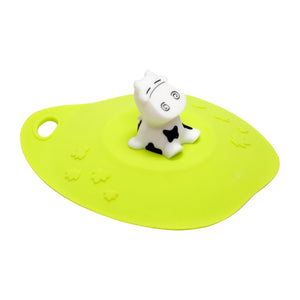 Moo Moo can keep any secret for you with the piece of grassland on Earth that it has made vacation spot. Seal your cup tightly with its Earthly lawn and nothing will leak out. Keep it on your drink from dawn to dust, so together we can enjoy the view of the Lawn Star. This cup cap is made of food grade silicone which has a wide range of temperature tolerance from -50 to 230 degrees F.
Size: 3 1/2" D x 2" H
Material: Silicone
Care & Clean: Dishwasher Safe
Includes: 1-PC
It fits tightly on your glass or mug and seals it preventing any unwanted spills!