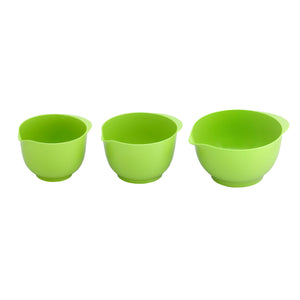 Great New Colors for the season! Everyday use in every kitchen! A fine addition to any kitchenware. 100% Melamine mixing bowls. Dishwasher safe, not for use in microwaves or ovens.
Size: 8 1/4" D x 5" H (3 qt.), 7" D x 4 3/4" H (2 qt.) and 6 1/2" D x 4 3/4" H (1.5 qt.)
Material: 100% Melamine
Care & Clean: Top Rack Dishwasher Safe. Do not use in microwave.
Includes: 3-PC
Add a splash of color to your kitchen with this set of matching measuring cups and spoons.