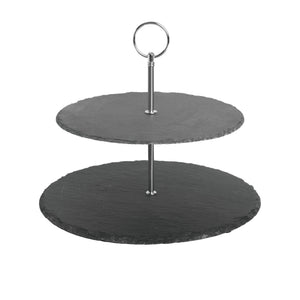 Display your best bakes in style with this 2-tier slate cake stand. Features two spacious round tiers measuring 9 1/4" and 11 1/4" in diameter - plenty of room for your favorite cakes, muffins, cookies, canapes, tapas, finger sandwiches, cheese or pastries. Perfect for afternoon tea, buffets, dinner parties, birthday parties and weddings. Also suitable for use in bakeries. Made from 100% natural slate, the stand makes an impressive centerpiece which is built to last.
Size: 2 Round Tiers-9 1/4" D, 11 1/4" D
Material: Natural slate with EVA bottoms
Care & Clean: Wipe clean with damp cloth
Includes: 1-PC
Food safe surface is ideal for serving cheeses, appetizers, snacks and more.