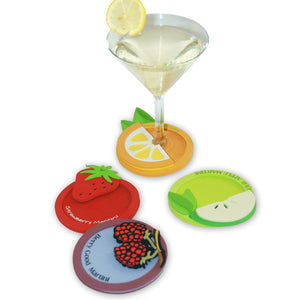 Allow your guests to distinguish their glass in style with these unique and fun attachable coasters for the foot of their glass! Slip a coaster onto the foot of the glass. It will travel with you, at the poolside, in the sand at the beach, and of course at your festive party table. These unique and fun drink coaster sets are great for gift giving! Designed to fit most stemware. Glass not included.
Size: Fits most stemware.
Material: Foam rubber
Care & Clean: Hand Wash Only
Includes: 4-PC
Each set of 4 coasters is presented in a drawstring tote that will fit over the neck of a bottle for gift giving!