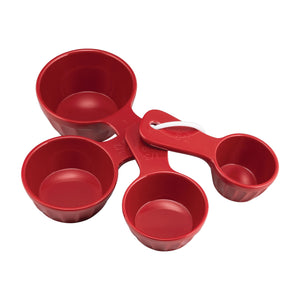 Fun set of measuring cup set is a great way to add color to your kitchen. It will be a necessity for your cooking and baking needs. Provides accurate measurements and made from 100% melamine.
Size: 1/4 cup, 1/3 cup, 1/2 cup and 1 cup
Material: 100% Melamine
Care & Clean: Top Rack Dishwasher Safe. Do not use in microwave.
Includes: 4-PC
This measuring cup set features all the standard size measuring cups, ensuring precise measurements for cooking accuracy.